I absconded completely from Facebook from the Dormition of the Theotokos Feast (August 15) until the Ecclesiastical New Year (September 1). Since then, I have made only one general post and posted a blog article and haven't spent any time scrolling, checking for "likes", and the only places where I have shared my post are on the 2 pages I directly moderate (All Saints West Point, Fellowship of St. Moses the Black/VA Chapter) and the Fellowship of St. Moses Page where I develop content.
Facebook was the only social media platform I was very active on. I rarely use Linked-in and never use Twitter. Instagram and Tik Tok seem weird to me, so I never signed up for them. I liked finding links to various "Cosby Show" videos and stuff from old school hip-hop groups on Facebook. Some of the platform's comedies were okay and I liked a couple of the more recent music groups as well. I quickly scrolled past post on my "News Feed" that I didn't like and would "like" some comments and memes. I did waste a few minutes a day at work on Facebook and throw away hours on it at home. Heck, at least it wasn't porn or violent games. As long as it didn't interfere with my job or marriage, I didn't see a reason to even fast from my social media habit, especially after keeping the Dormition fast.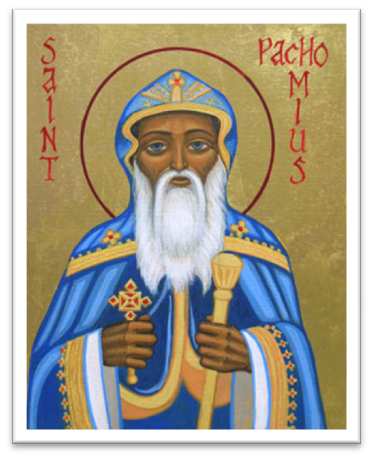 Sunday, August 14th, our Subdeacon at St. Basil, Charley Stayton, gave me a copy of "Prayers of the Desert." I was especially excited to find the Rule of St. Pachomius, of the the great African Desert Fathers. While standing at the altar during liturgy, I began to think about how those ancient monastics lived apart from all the hub-bub of worldly society. These men and women were completely devoted to struggling against their own sins, obtaining holy virtues, and becoming one with God. Except for selling a few handicrafts to buy bread, the Desert Fathers didn't entangle themselves in the cares and worries of society. It is impractical for me to leave my wife and life and live in a cave near Aswan, Egypt. Except for my Compline (prayers at bedtime), I kept a very consistent prayer rule. One thing that I could do for a while was to leave social media alone for a while.
Not spending time on Facebook paid off almost immediate dividends. With my new teaching position with the St. Athanasius Academy, I had extra minutes to review my lesson plans. I got a little more done at work, and felt more compassionate to my wife and others. I even developed and kept a regular Compline prayer. The Apostle Paul warned about busybodies in the Church (2 Thessalonians 3:11). Avoiding Facebook altogether freed me to handle my own affairs and spirit rather than getting upset about people's political opinions, or congratulating myself on how many people liked my latest blog article.
There are probably plenty of people who use social media wisely, not wasting hours on mindless scrolling and silly arguing with people they never met personally. Unfortunately, I was not one of them. I needed to leave the platform cold turkey and let my soul heal from visible and invisible wounds. I didn't know I had them until I gave up Facebook. The self-imposed fast has removed scales from my eyes and allowed me to see things more clearly.